Kimberly Habermehl Selling San Antonio
FREE SELLING FOR MORE BOOKLET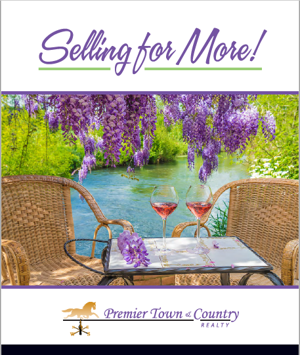 Receive your free selling for more resources to get top dollar for your home and sell in less time than your competition. Just click on the Selling For More image to the right and be sure request your free selling for more booklet simply by typing Sell For More in the space.
Kimberly Habermehl knows how to get more when selling your home in the San Antonio Area. Ask her for a free consultation and Kimberly and her team will share a few insider secrets with you.
SELL MY HOME IN SAN ANTONIO, TX
NOW is the best time to sell a home in the San Antonio, TX area. Why? San Antonio is voted #14 in the nation as one of the top places to live. This brings a high demand of buyers currently looking for homes in San Antonio, TX. With historically low interest rates and more cash buyers, we are enticing more buyers than ever, looking to purchase their next home in San Antonio, TX.
Ask Kimberly How You Could Net Up To 21.6% More!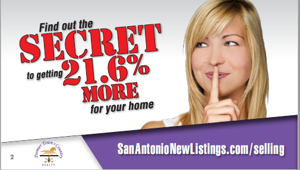 Find out the secret to getting 21.6% more for your home. Get your FREE report that could net you up to 21.6% more.
We have the selling secrets you've been looking for. Call Kimberly at (210) 315-5583 today! Let us help you write your own selling success story. Your first step is to get your HOME VALUE FREE INSTANTLY
Easy Exit Listing Agreement for Homes in San Antonio, TX
You will not be locked in to a long-term contract with us. You can "fire" us if we are not doing our best. You will not be subject to any further obligations. You are in control of your listing time frame. And we are HIGHLY MOTIVATED to sell your home fast! This Easy Exit Listing Agreement is satisfaction guaranteed. When you list your home with us, we take the pressure off of you and put it on us. You are our employer and you have the right to "fire" us, if we aren't doing our best to serve you. There are never any hassles and absolutely no questions asked. You can cancel anytime.
Give our free instant home value tool a try, now.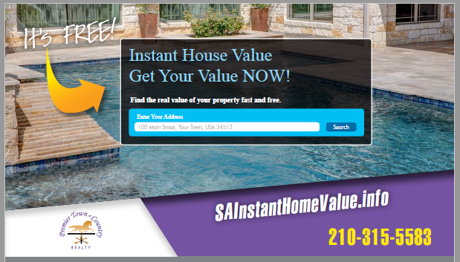 Our 101 Point Selling Plan for Homes in San Antonio, TX
Our 101 Point Marketing Plan for homes in the San Antonio, TX area sells more homes, for more money, in less time. Inventory is down and demand is up. NOW is the time to sell your home in San Antonio, TX. We can help you position your homes to sell. Less inventory means you can sell for more. To sell in less time, request our 101 Point Marketing Plan today. Just click on Contact Us or call Kimberly at (210) 315-5583.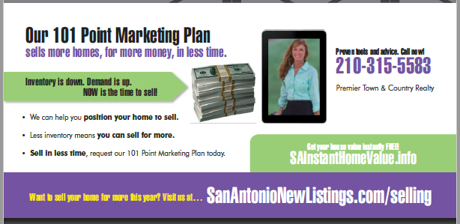 We Just SOLD Another Home in San Antonio, TX
Your home could be next! NOW is the time to sell your home for more. We have buyers wanting to buy homes in the San Antonio, TX area RIGHT NOW, qualified buyers that are ready! High demand and low inventory means homes sell for MORE right now! If you are even thinking about selling, NOW is the time to take advantage of this Seller's Market before it comes to an end.
Get a FREE VIP Selling for More Book
Selling your home is all about knowing the local housing market. Pricing your home correctly is crucial to maximizing the highest selling price possible. As an area expert, I can help determine what direction the market is trending, so you can make the right choices when it comes to selling your home to get the highest price possible!
Accurate pricing is key to get as many people as possible to tour and make offers on your home, especially when you first list your home. There's a current pool of buyers waiting for new listings to hit the market, which is why accurate pricing and staging your home properly is crucial.
Things to Think About When Selling Your Home
Once we've determined the price, I can give you advice about the little things that you can do to stage your home to get you the highest possible price! You'd be surprised by the simple measures you can take to dress up your home to attract more qualified buyers.
I have a marketing plan that is designed to get maximum exposure to the buyers that are currently looking, and all agents that have buyers. Through pricing, staging, agent accessibility, and visibility, both on and offline, I can successfully sell your home to help you achieve your goals.
Curious about what's happening in your neighborhood? You can create a custom market report to see what's active, under contract, and sold in your neighborhood!
Considering selling or refinancing your home? Get your free INSTANT San Antonio property valuation now!
Contact us today to find out how we can be of assistance to you!